Community Involvement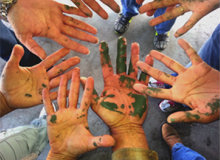 Community Involvement
Founded on a higher purpose, Independent Bank pursues effective, sustained community involvement at all levels. To create the greatest possible impact, we leverage a powerful combination of local funding and volunteerism, both addressing the needs of the community and supporting the passion of our employees.
We provide support for organizations and activities that benefit communities served by Independent Bank through:
Charitable Grants

Sponsorships

Employee Volunteer Programs

Company Matching Donations
Independent Bank focuses its resources on the following three funding priorities:
Community Development – We support organizations and programs working in low and moderate income communities that focus on small business development, affordable housing, and job training.
Education – We support programs that promote academic achievement for low and moderate income students, facilitate merit based access to higher education for underrepresented groups, and provide training for teachers and administrators working with low and moderate income students.
Health and Human Services - We support organizations that help ensure access to quality health education programs and health care in low and moderate income areas. We also fund basic needs assistance and child care service, especially when offered in tandem with other self-sufficiency initiatives.
By focusing our resources we believe we can help create a ripple effect of positive change and economic stability in communities across Texas.