History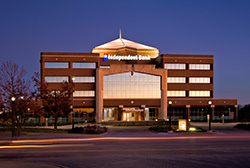 The Independent Bank charter was founded in 1913 by a group of prominent businessmen who wanted to form a local bank that would serve the needs of the community. Independent Bank is committed to providing an unparalleled level of personal service, while maintaining a conservative and prudent, yet innovative approach to its lending and investment practices. That approach has made Independent Bank a strong and financially sound bank with assets of over $1.6 billion.
With 30 locations and two full service mortgage offices throughout Texas, the bank effectively serves the cities of Anna, Austin, Celina, Colleyville, Collinsville, Coppell, Dallas, Denison, Denton, Farmersville, Georgetown, Highland Village, Howe, Lavon, Little Elm, Manor, McKinney, Plano, Princeton, Prosper, Round Rock, Sherman, Van Alstyne, Waco, and Whitewright.
Staffed by over 330 knowledgeable and dedicated employees, Independent Bank has a strong reputation of delivering an unparalleled level of customer service by a strong team of decisive, responsive and experienced banking professionals. In addition, Independent Bank is steeped in the tradition of civic pride, demonstrated by a high level of active community involvement and financial support by both the bank and its employees!
Independent Bank is committed to remaining independent, believing that independence brings freedom from bureaucracy and enables its fine team of dedicated bankers to respond to customers in an expedient and personable manner. Independent Bank provides innovative products and services that exceed customer expectations.