Program Overview
Independent Financial has a steadfast commitment to building strong, healthy communities and one way we honor that commitment is philanthropic giving through our Small Grants Program. Local, nonprofit organizations who serve the needs of low- and moderate-income individuals, families and small businesses can apply online for funding in either the spring or fall each year.
To achieve the greatest impact, we direct funding priorities to three specific areas:
Community Development – workforce development, affordable housing, small business development and community revitalization;
Education – early childhood development, technical and career training, after-school programs, financial literacy for children and/or adults, summer camps and college-preparedness; and
Health & Wellness – community health services, preventative healthcare services, basic needs and behavioral therapy for children.
To be considered for a grant from Independent Financial, organizations must provide proof that they offer services primarily to low- and moderate-income communities. Low- and moderate-income is defined as 80% or less of area median income.
Grant Eligibility
To receive funding for any type of grant, organizations must:
Serve low- and moderate-income individuals, families, or small businesses.
Have a 501(c)(3) tax-exempt designation or fiscally sponsored by a nonprofit organization
Have programs that fall under Independent Financial's philanthropic funding priorities: Community Development, Education, and Health & Wellness
Be located in one or more of the counties we serve in our Market Areas.
Grant proposals are evaluated based on the following considerations:
Scale best practices
Ability to measure and report on established outcomes-based success metrics aligned to strategic objectives
Deliver innovative and scalable solutions
Are completed in partnership, cooperation, and consultation with other agencies
Independent Financial will not consider grants for:
Organizations that do not primarily address the needs of low- and moderate-income communities
Individual or team sponsorships
Event conferences or research projects
Organizations that discriminate against any classification protected by federal, state, or local law
Religious organizations that are not engaged in a specific project that is nonsectarian and benefits a broad base of the community
Political action committees, candidates, or causes
Capital costs (brick and mortar, the purchase of capital equipment, or other capital projects)
Both of our Small Grant cycles for the year are now closed. To receive notification about future funding opportunities, please subscribe to our communication here.
FREQUENTLY ASKED QUESTIONS
How often can I apply for a grant?
You may apply for a grant once per year, in either the fall or spring according to the cycle your region has been assigned.
How will I know that my grant request has been received?
After you have completed an online application you will receive an email confirmation.
May I advocate my grant request in person?
Unfortunately, due to the high volume of requests, individual meetings with applicants are not possible.
What are the bank's funding priorities?
Please review our funding priorities listed here.
How large are your grants?
The Small Grants Program will fund a minimum of $5,000 to a maximum of $10,000.
Will I be given any feedback on my application if declined?
Unfortunately, due to the high volume of requests individual feedback on applications will not be provided.
What is the evaluation criteria when considering funding for applications?
Does this project serve low-to moderate-income individuals, families or communities?
How well does the project align with our funding priorities?
Does the project present an innovative approach to meeting challenges in our communities?
If approved, when will I receive funding?
Funding will be sent within 60 days of receiving the signed Funding Agreement.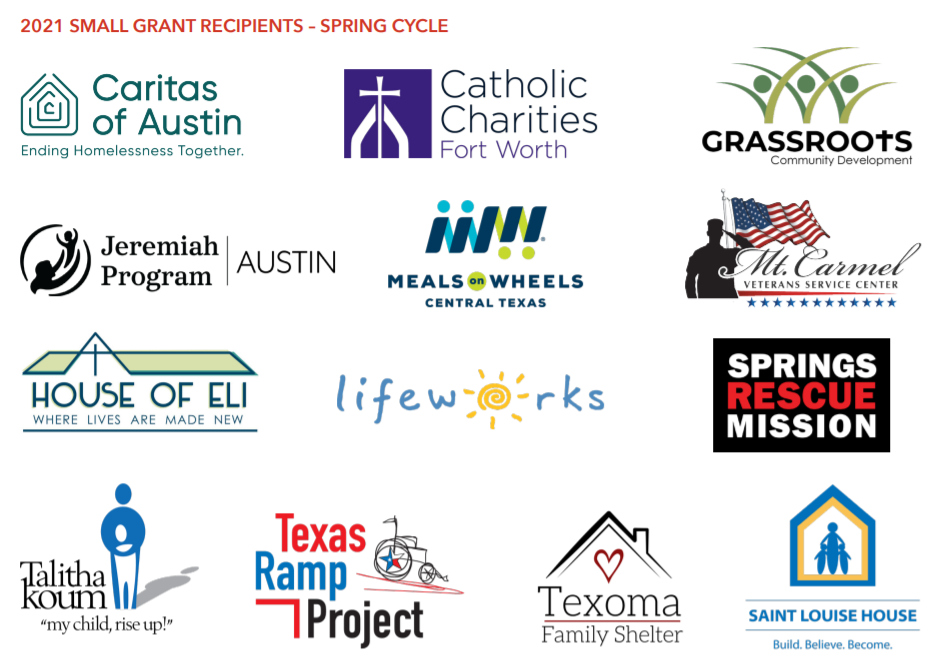 Contact Us

Please direct questions to the Community Investment contact in your region:
Aarika Plunkett – Community Development Officer for Houston & Austin
Brianna Adams – Community Development Officer for Colorado
Cindy Maxwell-Bathea – Community Development Officer for DFW (including McKinney & Sherman)
Kelli Diserens – Community Investment Director - Waco